Sound Therapy
Interested in Sound Therapy?
Contact Alex at 404-573-3445 or alex@secretriversounds.com to book.
Sound therapy is a wellness modality that uses vibrations from instruments to provide a cellular, vibrational massage. Clients lay in front of a large gong and are repeatedly immersed in its sound waves. Alex also uses a Quartzophone (crystal harp), singing bowls, rain sticks, tingsha bells, shakers and more. The instruments lull the client into a deep state of relaxation. This engages the parasympathetic nervous system, which allows for healing to occur.
Sound therapy is an ideal approach for individuals dealing with stress and anxiety. It can be a useful modality for emotional processing and dealing with life transition. It's non-invasive, non-drug and incredibly grounding. Clients often rise feeling aligned, rejuvenated and at peace after a session.
$100/1 hr
Note: Clients lay on a massage table, remain fully clothed and the session does not involve direct physical contact from the practitioner. There is an option for singing bowls to be placed directly on the body.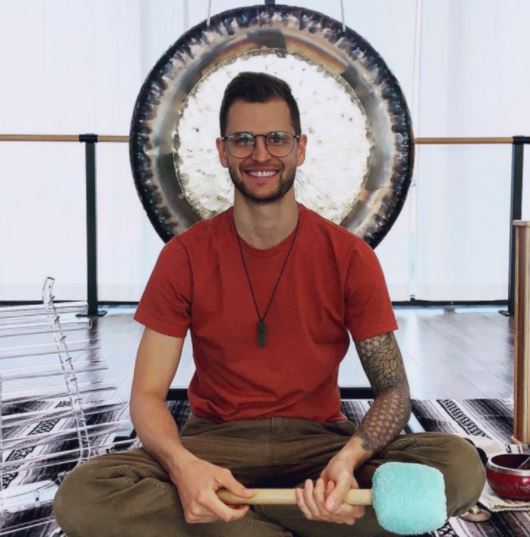 About Secret River Sounds: Alex Ballew began his journey with sound in 2019 and founded Secret River Sounds in 2020. Origins of his interest in this field can be traced back to his yoga practice as well as his experiences with gifted healers in the realms of massage therapy, acupuncture and various forms of energy work. Alex is certified through the Vibrational Sound Association. The goal of Secret River Sounds is to provide a service that creates wellness, tranquility, community and healing for both groups and individuals. Visit the Secret River Sounds website here.